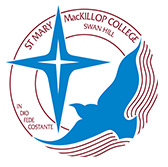 53 McCrae Street, Swan Hill VIC 3585
Wednesday 29 – Friday 31
Friday 31
Monday 3
Wednesday 5
Friday 14
Saturday 15
Monday 17
Tuesday 18
Tuesday 25
Wednesday 30
Wednesday 26 – Friday 28
Thursday 5
Monday 9
Thursday 12
Thursday 12
Friday 27
Year 12 Retreat
Year 7 First Day
First Day of Term 1 – All Students
School Photo Day
Beginning of Year Mass
Bunnings Sausage Sizzle Fundraiser
Year 7 Basket Tea
SMMC Swimming Carnival
SHR Swimming
Ash Wednesday
Year 7 Camp
Summer Sports
Public Holiday
Year 7 & 10 Immunisations
Year 11 & 12 Student, Parent, Teacher Interviews
Last Day of Term 1
Tuesday 14
Wednesday 15
Wednesday 6
Monday 18
Monday 25
Monday 1
Monday 8
Friday 26
First Day of Term 2. Student Free Day.
Online Teaching & Learning
2021 Year 7 Enrolment Expressions of Interest Open
LOTE Week
Catholic Education Week
Humanities Week
Queen's Birthday Public Holiday
Last Day of Term 2
Creating pathways for students in Year 10, 11 and 12
Enrol now for 2021
Offering 24 Authority subjects and 19 Certificate courses.
St Mary MacKillop College is a Year 7 to 12 coeducational Catholic secondary school. Since its inception in 1985 the College has expanded and now caters for 430 students.
Enrol Now
News
Year 7 2021 Online Information Sessions
May 20, 2020
Enrolment Expression of Interests for Year 7 2021 are now open. To find out more, or to complete an expression of interest, please go to the enrolments page. Please share this information with anyone not currently in our community that may be interested in enrolling at our school in 2021.
Subscribe to our newsletter