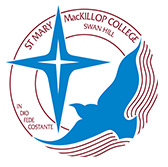 53 McCrae Street, Swan Hill VIC 3585
Download our latest school newsletters here:
Creating pathways for students in Year 10, 11 and 12
Enrol now for 2021
Offering 24 Authority subjects and 19 Certificate courses.
St Mary MacKillop College is a Year 7 to 12 coeducational Catholic secondary school. Since its inception in 1985 the College has expanded and now caters for 430 students.
Enrol Now
News
Project Compassion
February 28, 2021
Spanning through the six weeks of Lent each year, Project Compassion is an extraordinary, ongoing demonstration of the faith, love and generosity of Caritas Australia's caring supporters, all in the name of justice and peace. Donations to Project Compassion allow Caritas Australia, the Catholic Agency for International Aid and Development, to work with local communities …
Subscribe to our newsletter