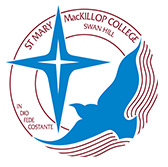 53 McCrae Street, Swan Hill VIC 3585
The 2021 Annual Report for St Mary MacKillop College can be downloaded via the link below:
Creating pathways for students in Year 10, 11 and 12
Enrol now for 2024
Offering 24 Authority subjects and 19 Certificate courses.
St Mary MacKillop College is a Year 7 to 12 coeducational Catholic secondary school. Since its inception in 1985 the College has expanded and now caters for 430 students.
Enrol Now
News
Egg & Spoon Relay Race for Caritas Australia (Project Compassion)
March 27, 2023
On Thursday 16th March the Faith and Mission Committee hosted an 'Egg and Spoon Relay Race'. It was a great effort by Homeroom Teachers and House Leaders to recruit our participants, with each House battling it out to see which team won't 'crack' under pressure! Many students put their concentration skills to the test — …
Continue reading "Egg & Spoon Relay Race for Caritas Australia (Project Compassion)"
Subscribe to our newsletter