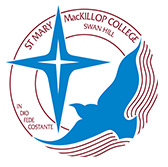 53 McCrae Street, Swan Hill VIC 3585
The 2020 Annual Report for St Mary MacKillop College can be downloaded via the link below:
Creating pathways for students in Year 10, 11 and 12
Enrol now for 2022
Offering 24 Authority subjects and 19 Certificate courses.
St Mary MacKillop College is a Year 7 to 12 coeducational Catholic secondary school. Since its inception in 1985 the College has expanded and now caters for 430 students.
Enrol Now
News
School Production – Little Shop of Horrors
July 29, 2021
The School Production has been postponed due to COVID-19. This year's production is Little Shop of Horrors. Seymour Krelborn is a meek and dejected assistant at a floral shop who happens upon a strange plant, which he affectionately names "Audrey II", after a girl who he adores.  New showtime details are as follows: Wednesday 15th September …
Continue reading "School Production – Little Shop of Horrors"
Subscribe to our newsletter