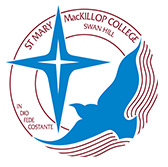 53 McCrae Street, Swan Hill VIC 3585
Download our current canteen menu below:
Canteen and Lunch Orders
The St Mary MacKillop College canteen is a service that the school provides to assist families to access healthy lunch options for their children. The St Mary MacKillop College canteen has a wide range of healthy lunch options, and these can be seen in the attached canteen list.
The canteen opens daily before school (8:30 – 8:50 pm), Recess (10:21 – 10:40 am) and Lunch (1:20 – 1:50 pm). The first 5 minutes of lunch, the canteen is only available to students to collect lunch orders.
In keeping with the College's healthy food policy, students should bring prepared meals from home for Recess and Lunch each day. These meals are supplemented by the College canteen with what are healthy choices/alternatives. With this in mind, the College discourages food from fast food outlets to be brought to school by students or parents/guardians. This includes high sugar drinks. Students are not permitted to leave the school campus to access food outlets.
Thank you for your support of our canteen service.
CDF Pay
CDF Pay is an online payment method to enable you to order your child/rens lunches. Lunch orders must be made online using the CDF Pay system. Parents will need to set up their CDF Pay account, and can either order their child's lunch, or provide access for the student to order their own lunch. Orders, should be made by 10:00 am each day and can be made days in advance, are sent automatically to the canteen, where the food is freshly made and provided for students at the beginning of lunch.
We hope that this will be a stress free way that you can ensure that your child has lunch, if they are not able to bring their own. Lunch orders will be ready and available at the Canteen at the beginning of lunchtime. Students who order their lunch may move directly to the front of the Canteen line to collect their lunch.
A guide to how you can set up your CDF Pay oline ordering profile is below in PDF form. If you have any questions about setting up your CDF Pay online ordering profile, please make contact with the Front Reception Staff at the school on 5032 9771.
If you require a lunch order for your child and are having difficulties with CDF Pay, please contact the Pastoral Care Centre prior to 10:00 am.
Creating pathways for students in Year 10, 11 and 12
Enrol now for 2024
Offering 24 Authority subjects and 19 Certificate courses.
St Mary MacKillop College is a Year 7 to 12 coeducational Catholic secondary school. Since its inception in 1985 the College has expanded and now caters for 430 students.
Enrol Now
News
Hearts and Hands Mass
June 7, 2023
We will be celebrating our annual Hearts and Hands Mass on Monday 19th June. We are currently collecting donations of non-perishable food or toiletries for our Hearts and Hands Mass. Warm coats and blankets can also be donated. Thank you all for your support.
Subscribe to our newsletter