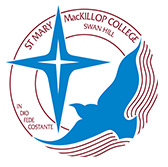 53 McCrae Street, Swan Hill VIC 3585
Download our current canteen menu below:
Creating pathways for students in Year 10, 11 and 12
Enrol now for 2022
Offering 24 Authority subjects and 19 Certificate courses.
St Mary MacKillop College is a Year 7 to 12 coeducational Catholic secondary school. Since its inception in 1985 the College has expanded and now caters for 430 students.
Enrol Now
News
Act for Peace Ration Challenge
June 1, 2021
This year Student Forum is inviting students to be involved in the Ration Challenge which asks students to eat the same rations as a refugee for 3-5 days and get sponsored to do so. By putting themselves in the shoes of a refugee, they'll learn about global issues, develop empathy for others and feel empowered …
Subscribe to our newsletter