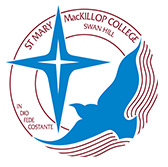 53 McCrae Street, Swan Hill VIC 3585
Creating pathways for students in Year 10, 11 and 12
Enrol now for 2020
Offering 24 Authority subjects and 19 Certificate courses.
St Mary MacKillop College is a Year 7 to 12 coeducational Catholic secondary school. Since its inception in 1985 the College has expanded and now caters for 430 students.
Enrol Now
News
Book Week
August 20, 2019
This week we celebrate Book Week! Get along to the Learning Resource Centre this week and check out what is on offer. There are lots of great books, posters and novelty pieces to purchase. There is something to suit all ages!
Subscribe to our newsletter