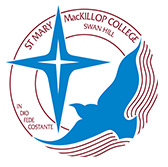 53 McCrae Street, Swan Hill VIC 3585
Download our 2018 Prospectus (PDF):
Creating pathways for students in Year 10, 11 and 12
Enrol now for 2019
Offering 24 Authority subjects and 19 Certificate courses.
St Mary MacKillop College is a Years 7 to 12 coeducational Catholic high school and it is one of eleven such schools in the Diocese of Ballarat.  Since its inception in 1985 the college has expanded and now caters for 500 students.
Enrol Now
News
Year 12 VCAL Camp
April 24, 2018
On 28th February the Year 12 VCAL students went to Melbourne for their immersion camp which focused on homelessness and on careers. Students were given the opportunity to see first-hand the work done by the Salvation Army in helping with the issue of homelessness. The presenter provided an overview of the impacts of homelessness, and …
Subscribe to our newsletter